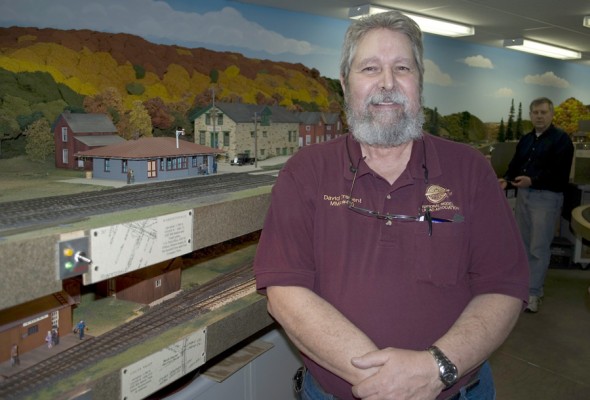 David Crement's EBT On3 layout was our fourth and final layout on this trip. The show's Layout Tour Guide described the lay as: "Dave has added the #6 mine and the town of Woodvale. East Broad Top Railroad 2-8-2 Baldwin Narrow Gauge locomotives move freight, passenger, and COAL trains winding their way through the Pennsylvania mountain towns of Wood, Roberts, Cooks Rocky Ridge, Coles Valley and Kimmel siding."
I'm not sure which were more entertaining Dave's stories or his models. Both were outstanding. One of the more memorable was the story of the scout's that built the company house shown in the below photos. Dave keeps images of the boys who built the models on the railroad mounted to the fascia.
I'm an EBT fan, I admit it. So, I was excited about going to see the railroad and it did not disappoint me one bit. I would have liked to see coal trains moving, they are my favorite freight cars, but what did move looked great and ran perfectly. The structure models on this railroad set it apart from others.
David has a great sense of humor and it shows in his models, I really like the view of the miners in the coal mine.
This layout started a conversation on the ride home the next day that is going to make for some changes in the future. No I'm not going to model the EBT, although it is very tempting, but the flanges that were running on the On3 equipment looked great and they go back to where I started in O scale, with Proto48. No I'm not going back to p48 but maybe their wheel standards.