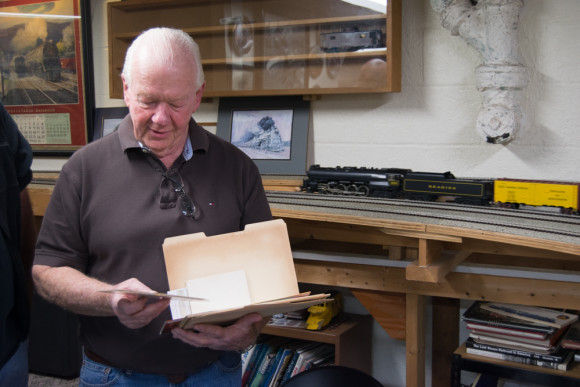 The second layout on our tour was that of Gary Smith. I first met Gary back when I was a part of the Cherry Valley Club. He was visiting Fran Piefl and came to one of the club's swap meets. He wanted to go down to Pemberton, NJ to see the PRR station.
I remember driving him the twenty or so miles from the club to Pemberton during the meet so he could measure and photograph the station because he wanted to model it. I had to go see Gary's layout to see the model that came from those efforts. I wasn't disappointed.
Gary's layout is plan is simple, three loops one as a fly-over, but the quality of the build is excellent. Only a couple of the scenes are completed, but they are very nicely done and the layout ran flawlessly during the open-house.
Gary is a fine gentleman and a great host, when we arrived he was letting one of the visitors test a locomotive on the layout during the open house. And shortly after we arrived he placed his Overland Reading T-1 on the layout and let some of those beautifully super-detailed PRR brass locomotives take a break. The T-1 can be seen running behind Gary in the first photo.