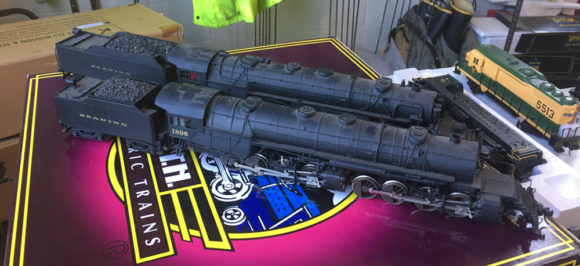 On Saturday, I was at the October Strasburg O Scale Show in Lancaster County, PA. It was a beautiful Fall day, not even a distant memory of the Summer Show's HEAT.
This show was missing a number of the regular dealers. I was told, some had family commitments and some had health issues keeping them from the show. Still, Rich and John put on a great show with just a few less tables. The crowd was steady all day.
I did take care of some business at the show. Carl Jackson returned my Weaver G1 mechanism back to me with the drivers converted to Proto48. I gave him the mechanism at the Strasburg August show and he returned it finished at the October show, about two months later. I'm still waiting for my T-1 drivers from another machinist for over two years now. Not only was Carl quick with the conversion but it looks great also. I'll have more to say and post about the G1 locomotive this Winter.
For the Reading fan, there was a pair of Reading N1's built from the old IHB 0-8-0's (see above photo). While there were neat models they did have some inaccuracies. Considering when they were built, they did look nice. There were also number of Reading switchers on the tables at the show.
All in all, a good selection of models to choose from and a nice show.