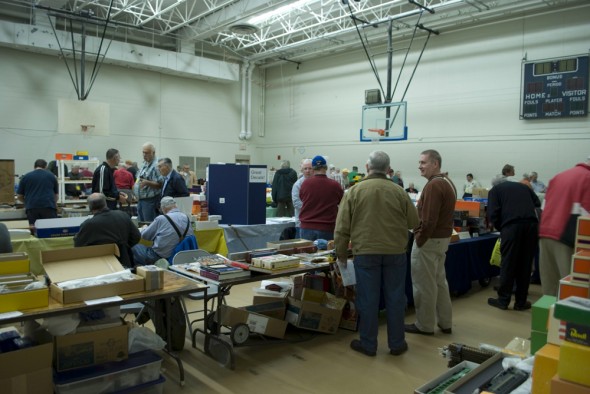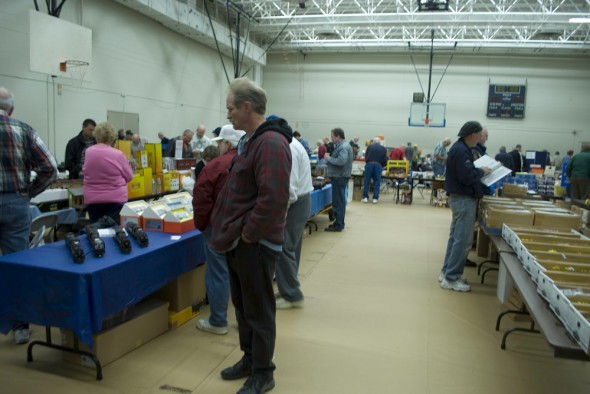 I got back from The Cleveland O Scale Show last night. From New Jersey, it was an eight hour drive one way to the show but it was well worth it. This was my second time attending the show. The show's size is not as large as Chicago, but  is close to twice the size of the O Scale shows back here in the East. Attendance was good and people were buying, maybe not the most expensive stuff in the room but they were spending money.
One of the really nice things about the show was the the show's producer was walking through the hall during the last part of the show and asking some of the dealers not to start to pack their materials up. How many shows that were advertized for 9-2 really end at noon. This show ended at 2pm. This work out well for me, as I had a pair of larger sales within the last twenty minutes of the show to attendees, not dealers.
Again, I had my O scale track out on the table and it continues to find new homes. I noticed most of the track sales were smaller, guys buying one or two bundles at a time. Still, I'm glad it's finding new homes. The first of Protocraft/Micro Engineering P48 flex track to start to replace it should be arriving this next week.  Since more of the O scale flex track sold this weekend another order for the P48 flex track will be placed shortly.
I also had the chance to meet some people I've only emailed with before. One of them was Lee Turner. You may remember Lee as the man that produced some resin kits in the past. I have a couple of his kits myself. He had some very nicely painted models for sale on his table. More importantly, Lee mentioned he is currently working on an LV wrong way boxcar. I hope he is able to find the right caster to produce the car, that's a car I'd like to have on the layout.
I got to talk to some of the members of the Youngstown Club while I was there. They were one of the few tables I bought from at the National and they had another model on their table yesterday that managed to get me to dig into the wallet and take it home.
There was a nice mix of guys selling some extra stuff, brass dealers, parts guys and others selling off collections. There was also a mixture of guys selling scenery materials and buildings. I had a good time selling some of my extras and brought home some new models and parts for this winter's projects.