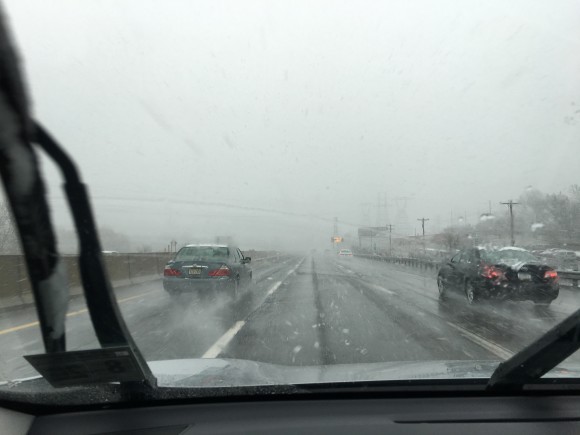 This was the view on the drive home. Not the best of weather to be out for a train show, but the April 2016 Strasburg Show was worth the adventure. The show was well attended. The foot traffic inside was steady all day and only slowed down just before the close of the show. I even was able to get a quote from John Dunn about the weather for a Strasburg Show.
In the Proto48 crowd we missed Jim Hawk and Carl Jackson at the show, they both regularly have tables at the show. But there were a number of new dealers at the show.
For Reading Modelers, I did see a number of locomotives at the beginning of the show. There was an SGL G3 with a set of passenger cars, a couple of Weaver G1's and three tempting camelbacks on a table just across for where we were located. All but one of these steam locomotives found new homes during the show. Fran Pfiel also had a nicely decorated Custom Brass Alco switcher in the Reading Pullman Green.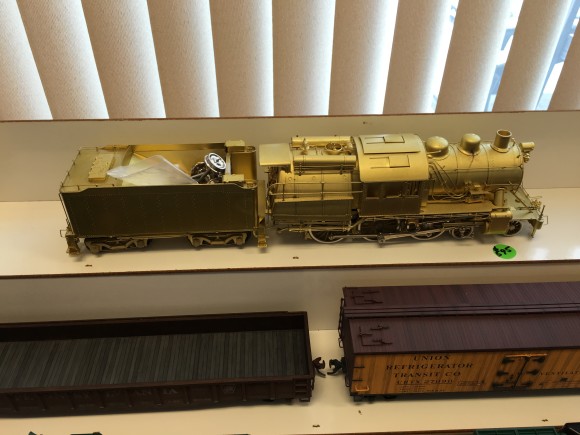 Other things of interest, there were a number of the hard to find Pacific Limited brass box cars. I saw an Erie '32 ARA box car, a NYC USRA Design 9'4″ IH door and a half with AB brakes and Gilroy doors, A P&LE USRA box car and a couple of PRR X23 box car. There were also a number of the not so hard to find Pacific Limited cars like the H21a's and the X23 work cars.
I also saw some Parri cars on at least three different tables. What I remember were a WM fish belly hopper car an N&W triple hopper, a PRR H35 class hopper and a PRR G22 gondola.
There was also some of Norm's Proto48 Flex track on one table and some High Sierra Models Proto48 turnout parts. Nice to see these also find new homes.
It was great to see and talk with the familiar faces at the show, I also noticed a number of new faces in the buying crowd which was very encouraging. All in all it was another nice show put on by John Dunn and Rich Yoder.